Gaukhar Zhanibekova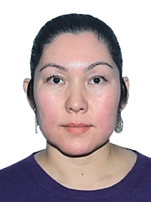 Citizenship:
Republic of Kazakhstan
Contact details:
E-mail: gaukhar-k@mail.ru
Mobile Tel: +7-707-397-88-23
Academic position: docent
Academic Degree: PhD
The name of the specialty and the code indicated in the diploma of higher education: "Economist".
Staff (Full-time)
1. EDUCATION/QUALIFICATION (YEAR, COUNTRY, INSTITUTION):
1995-1999 - KazSAM. Economist.
2001-2003 - KazNU named after al-Farabi. Master in Economics.
2005-2008 - KazNU named after al-Farabi. PhD in Economics and Management.
2. PEDAGOGICAL ACTIVITY (WORK EXPERIENCE): (YEAR, MONTH, INSTITUTION, POSITION):
2003-2012 - teacher, acting Associate Professor of the Department of "Finance" KazNU named after al-Farabi.
2013-2018 - Associate Professor at VSEU KU.
Since 2018 - Associate Professor of the Art Management Department of the KNK named after Kurmangazy.
3. PUBLICATIONS IN REVIEW JOURNALS:

№

Title of the publication

Publication name, ISBN, place, year

Publications in review journals:

ККСОН МОН РК, ВАК РФ

Scopus

Impact Factor

1

2

3

4

5

6


1



Evaluation of Influence of Innovation on Enterprise Productivity

Space and Culture, India 2019, 7:1
4. SCIENTIFIC INTERESTS (RESEARCH AREA):
State it briefly in a free form:
Formation and development of fundraising in Kazakhstan.
5. PROFESSIONAL DEVELOPMENT: (INTERNSHIPS, TRAININGS, SEMINARS, COURSES):
Training of specialists according to the requirements of the international standard ISO37001:2016 "Anti-Corruption Management Systems". KNK named after KurmangazyOctober 3, 2018.
10/31/2018. 72 hours.
6. KNOWLEDGE OF FOREIGN LANGUAGES:
Language

Level

Mark the level (√)

Specify IELTS/TOEFL scores, etc.

if you have a certificate

Beginning

Pre-Intermediate

Intermediate

Advanced

5.5

Academic writing