Mashanova Saltanat Zhusupovna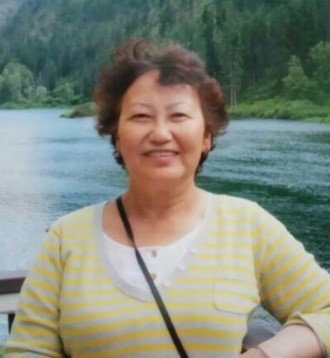 Citizenship:
Kazakhstan

Contact information:
Phone number: 8-701-396-50-30
E-mail: Saltanat3011@gmail.com
Position: teacher
The name of specialty and code: Almaty State Conservatory. Kurmangazy, a specialty of piano, qualification – teacher.
ü Full-time employee
1970 – 1975 Alma-ATA State Conservatory. Kurmangazy, piano specialty, teacher qualification.
1. Diploma for active work as a jury at the Republican contest of young instrumentalists «My favorite work» Almaty 2020.
2. Diploma for the preparation of the winner of the contest «1 Republican piano competition» (Ministry of Education and Science of the Republic of Kazakhstan).
3. diploma for preparation of the Grand Prix in the category «Instrumental music, piano».
1. 1975-2017 G. Teacher-musician of the special and compulsory piano departments of the Zhubanov school.
2. 2017-2019 Deputy Director of the school of arts now tsmo at the Kazakh National Conservatory. Kurmangazy.
3. By 2019 Teacher of the Department of General piano at the Kazakh National Conservatory. Kurmangazy.
4. PROFESSIONAL DEVELOPMENT:
1. Professional development and retraining of personnel. Full course in the specialty 050402 "Instrumental performance" (piano) program "master class" 72 hours. 06.11.2010 G.
2. Certificate XXXIVРеспубликалық of horrendously contests and 2013 in 29 nauryzga den sebelk drone atisine Rastogi
3. Certificate of participation in the Training "fundamentals of computer literacy" may 17, 2010
4. Certificate of participation in seminars and masterclasses by Keith Swanwick, Professor of the Institute of education, University of London, on the topic: "Music education at school: modern approaches and methods»
5. Certificate of listening to the course of training teachers in the class of keyboard synthesizers. 72 hours. G. 30.08.2015
5. PUBLICATIONS, SCIENTIFIC WORKS:
№

Name of publication

Name of edition, year

Pedagogical editorial offices:

Works for piano

9965-595-9205 Алматы 2005

Music editors:

School songs

УДК 78(075) Алматы 2014

Plays for the Bayan

050009 Алматы 2009

Methodical works

Methodological principles of working with students in the class of G. G. Neuhaus

The problem of activating the educational process in the piano class
| | | | |
| --- | --- | --- | --- |
| Language | Level | | IELTS/TOEFL, others |
| | Beginning | | |
| English, German | Pre-Intermediate | ü | |
| | Intermediate | | |
| | Advanced | | |
| | Academic writing | | |