Zarina Sugurova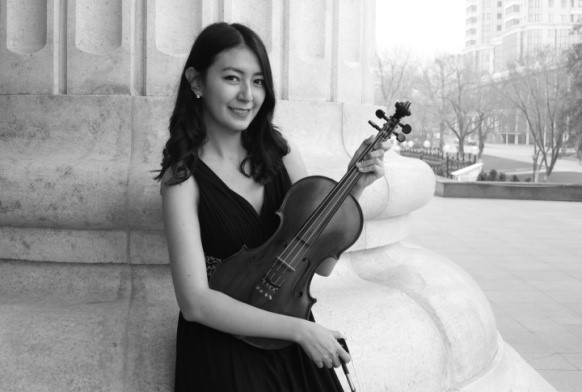 Nationality:
Kazakhstan
Contact information:
Phone number:
E-mail:
Position: _______ teacher
Science degree: _ Master of Arts _
The name of speciality and code: «_6М040200 -Instrumental Performance »
Full-time employee Part-time employee +
EDUCATION:
1. 2016-2018 Master of arts,
6M040200-Instrumental performance
KNC named after Kurmangazy
Specialty "VIola", class of senior teacher Diana Mahmood
Research supervisor: candidate of art history, Senior teacher Yelena Kondaurova
2. 2012-2016 KNK im. Kurmangazy, honours degree
6B040200-Instrumental performance
Specialty "Viola", class of senior teacher Diana Mahmood.
3. Qualification:Concert performer, orchestra and ensemble artist, teacher
AWARDS:
2015 diploma of the 3rd degree Republican student Olympiad, KNC named after.Kurmangazy 2015 Kazakhstan, Almaty
2015 Diploma of the 3rd degree 13-th international competition "Premio citta` di Padova", Italy, Padova
3. TEACHING ACTIVITIES/WORK EXPERIENCE:
2019- present : Teacher Kurmangazy Kazakh National Conservatory
2016- Present : Teacher Zhubanov Kazakh Republican special music school
4. PUBLICATIONS, SCIENTIFIC WORKS
#

Name of publication

Name of edition, year

1.

К проблеме исполнения современных произведений (на примере: двух пьесы для альта А. Рубцова)»

Сборник материалов Республиканской научно-практической конференции «Исполнительское искусство Казахстана в XXI веке», апрель 2017 г.

2.

«Традиционные приёмы игры в современном контексте (на примере произведения Г. Нокса «Viola space»)»

Saryn art and science journal, №1 (18) 2018
5.CONFERENCE PARTICIPATION (2010 - 2016):
#

Name of the conference

Name of the organization

Country

Date

1

2

3

4

5

Local

1.

«Исполнительское искусство Казахстана в XXI веке»

КНК им. Курмангазы

г. Алматы

2017
Представьте, пожалуйста, фото, видео материалы по конференциям в электронном виде, а также электронные ссылки.
6.PROFESSIONAL DEVELOPMENT
Online learning: Opportunities and practical application 18.06.2020-24.06.2020 KNC named after Kurmangazy 72h Certificate no. 355-2020PC
Техникалық және кәсіптік, орта білімнен кейінгі білім беру ұйымдарындағы қашықтықтан оқыту: контентін құрудан бастап оқу процесін ұйымдастыруға дейін 12.06.2020 Talap коммерциялық емес акционерлік қоғамы 36ч Сертификат DL 11734
Қашықтықтан оқыту жағдайында студенттердің өзіндік жұмысын ұйымдастыру 12.06.2020 Talap коммерциялық емес акционерлік қоғамы 36ч Сертификат DL 11948
Learning to teach remotely 17.08.2020 Stepik 40H certificate 668218
Instrumental performance author's course 05.03.2019-14.03.2019 KNK im.Kurmangazy 72h Certificate 018-2019
Certificate of participation in master classes by M. Katz (France)
19.10-24.10.2022 – Master classes within the framework of the Auer Heritage Forum-festival 72 hours
Scientific internships:
The music Academy.E. Grieg at the University of Bergen (Norway, Bergen) 2017
Azerbaijan national Conservatory (Azerbaijan, Baku) 2017
7. Languages:
| | | | |
| --- | --- | --- | --- |
| Language | Level | | IELTS/TOEFL, others |
| | Beginning | | |
| | Pre-Intermediate | | |
| English | Intermediate | | |
| | Advanced | | |
| | Academic writing | | |