Concert of piano music "The way to mastery"
23 november
18:30
Big concert Hall
In a programme:
- F. Mendelssohn-Bartholdi "Rondo Capriccioso"
- F. Chopin Polonaise As dur, Nocturne with moll
- G. Pugnani-G.Ginzburg "Allegro"
- F.List "Waltz-impromptu",
Trensentsdentny etude "Heroica" Es dur
- AK Debussy Prelude "Fireworks" (second book of preludes)
- A.Skryabin "Concert allegro"
- F. Schubert "Impromptu"
- S.Rachmaninov Etude-picture es moll, "Elegy"
- B. Bartoc "Allegro barbaro"
- M. Ravel "Alborada del gracioso" from the collection "Reflections"
- J.S.Bah-S.V. Rakhmaninov "Prelude of gavotte and gigant"
- S.V. Rakhmaninov-A.Volodos "Andante"
- D. Bepjaprakov "Kunil Ashar"
- I.Stravinsky "Russian" from the ballet "Petrushka"
Performers:
Orazova Aliya, Rakhat Muratali, Olzhan Mukhtarov,
Assem Zakirova, Janel Sain, Roman Vlasov, Gaukhar Kenesova,
Saiddin Baltabay, Alina Glavcheva, Nikita Mikhaliyev,
Aydos Baybosyn, Nazerke Kabdrakhmanova, Naryn Kazhgaliyev,
Yernaz Guimarat, Olzhas Umurzakov, Diana Tokmurzieva
Free admission
Phone number (WhatsApp) for questions
+7 701 272 98 69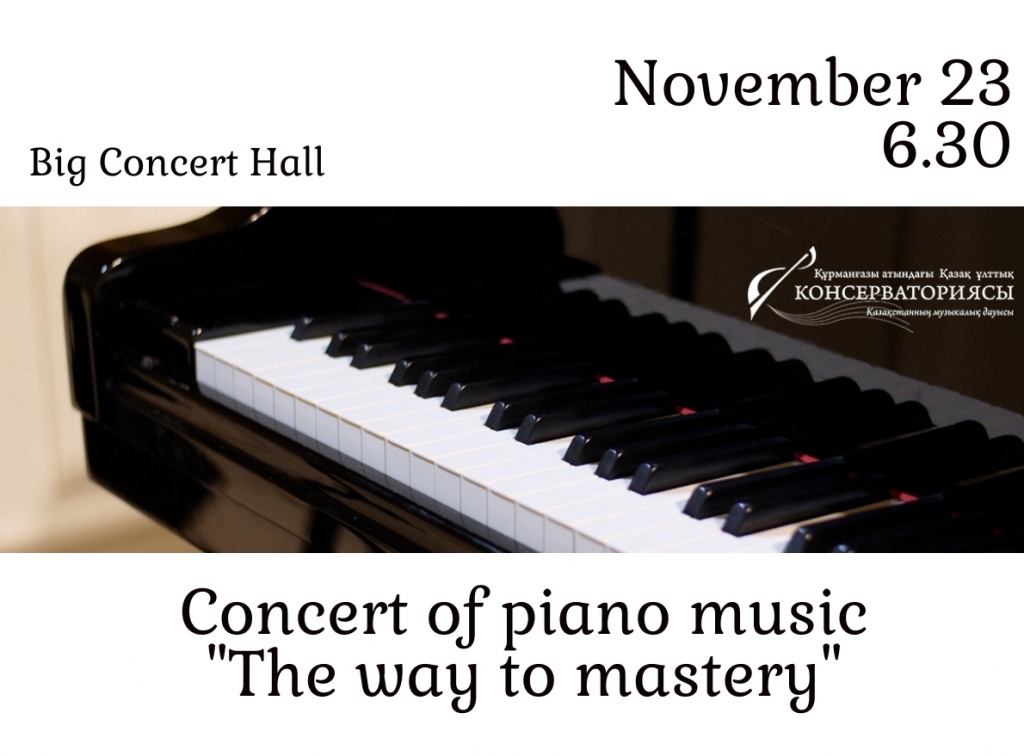 #almatyconservatory
#кнкимкурмангазы
#концертыалматы
#концертыконсерватории
вернуться к списку концертов