The Eighteenth International Festival of Modern Art Woodwind quintet Kazakhstan
all news
Master classes of Spanish musicians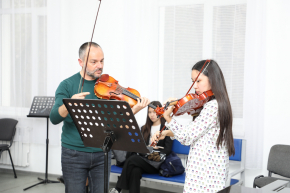 Professors of the Higher Musical Conservatory of Vigo (Spain) within the framework of the Erasmus + academic mobility program held piano, violin, clarinet, flute and saxophone lessons and master classes at Kurmangazy Kazakh National Conservatory during March 13 to 17.
20 march 2023
Guests from spain visited the conservatory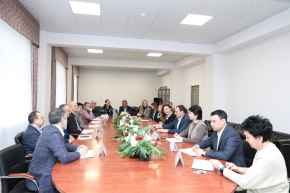 On March 13, 2023, as part of the Erasmus + academic mobility program, the teachers of the Vigo Conservatory of Music CONSERVATORIO SUPERIOR DE MÚSICA DE VIGO (Vigo, Spain) visited the Kurmangazy Kazakh National Consevatory. The delegation included the rector of the Vigo Conservatory Esteban Valverde, Erasmus+ program coordinator José Fernandez and teachers Rafael Yebra (Saxophone), Severino Manuel Ortiz Rey (piano), Mario Peris Salom (violin), Manuel Morales (flute), José Manuel Fernandez González (piano). ). During the week, Spanish musicians will share their experience in master classes for students of the Conservatory.
13 march 2023
Lecture on the Kazakh ballet theater will be held in Almaty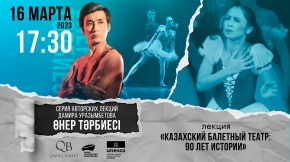 On March 16, 2023, there will be a final author's lecture by Damir Urazymbetov "Kazakh ballet theater: 90 years of history" from the cycle "Oner tarbiesi" initiated by Qazaq Ballet creative laboratory and supported by the Nursultan Nazarbayev Foundation and the Kazakhstan National Federation of UNESCO Clubs. Spectators are waiting for rare video clips and photographs, as well as surprises from artists and the opportunity to get answers to the most exciting questions about Kazakh ballet.
10 march 2023