Bekishev Zhumabek Zhailyubekovich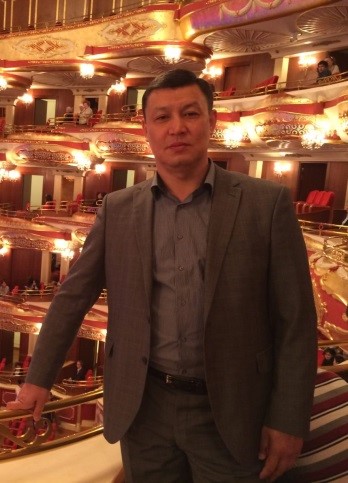 Citizenship:
Republic of Kazakhstan
Contact information:
Phone number:
8-778-010-03-01
E-mail: x-files1976@mail.ru
Academic position: teacher
Name of the specialty and cipher specified in the higher education diploma: "Piano".
Member of staff
1. EDUCATION/QUALIFICATION (year, country, educational institution):
1. 1994-1999 Almaty State Conservatory named after Kurmangazy. Qualifications: concert performer, teacher, concertmaster, chamber soloist ensembles.
2. 1999-2001 assistant-internship at the Almaty State Conservatory named after Kurmangazy in the piano class.
2. AWARDS (national, international):
| | | | |
| --- | --- | --- | --- |
| Year | Name, awards, prizes | Organization | Сountry |
| 1994 | Winner of the first prize Of the Republican piano competition (Karaganda) | | Kazakhstan |
| 2000 | Winner of the International piano competition (Almaty) | | Kazakhstan |
| 2016 | Title of The best Concertmaster of the First International competition named after Yerkegali Rakhmadiev in Astana. | | Kazakhstan |
| 1998 | Participant of the international competition of pianists and violinists named after M. long and Zh.Thibault (Paris) | | France |
| 2015 | Diploma of the concertmaster of the competition of vocal works named after S. Mukhamedzhanov. (Astana) | | Kazakhstan |
| 2016-2017 | Diploma of concertmaster of the VIth and VIIth International violin competition. (Astana) | | Kazakhstan |
| 2017 | The diploma of the concertmaster of the X International Youth Competition named after P. I. Tchaikovsky ( Astana) | | Kazakhstan |
3. WORK EXPERIENCE (YEAR, MONTH, INSTITUTION, POSITION):
1996-2002 Kazakh State Conservatory named after Kurmangazy. (concertmaster of the highest category).
2002-2010 Kazakh National Academy of Arts named after Zhurgenov. Senior Lecturer of the Department of «Pop Art»
2015-2017 Kazakh National University of Arts, Astana. Teacher of the Department "Compulsory piano".
2018-2020. State enterprise "Almaty College of music named after P. Tchaikovsky". Teacher of the Piano Department.
4. ADVANCED TRAINING (INTERNSHIPS, TRAININGS, SEMINARS, COURSES):
2016 - Took part in Masterclasses of professors Rafael Salinas (Barcelona high school of music) and Elmira Mirkasymova (State Conservatory Of Uzbekistan).
2016 - Attended a course of master classes by professors Cecilia Francini (piano) and Elio Oreo (violin) The Conservatorio Benedetto Marcello (Venice, Italy) for Chamber ensemble and Duet.
2017 - Took part in master classes of Professor R. Salinas (Higher school of music Barcelona). And in the additional program: "Evaluation and Analysis of competitive performances of young performers»
2020 - Completed a digital literacy refresher course on the following topics: "Online training.Features and practical application»
2020 - Advanced training course: "Technical and vocational, post-secondary education". "Distance learning in educational institutions, starting with content creation and organization of the process from and to».
5. LANGUAGE:
For those who speak foreign languages:
Language

Level

Mark a level(√)

Specify IELTS/TOEFL scores, etc.

if you have a certificate

English

Beginning

Pre-Intermediate

V

Intermediate

Advanced

Academic writing