Eldar Aitbekov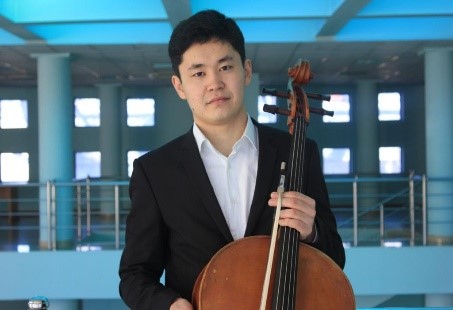 Nationality:
The Republic of Kazakhstan
Contact information:

Phone number:
8-707-418-96-06
E-mail:
aitbekovcello_94@mail.ru
Position: teacher
2017 – Kurmangazy Kazakh National Conservatory. Qualifications: soloist, artist of the orchestra, chamber ensemble, teacher;
2019 – Kurmangazy Kazakh National Conservatory. Master of Arts.
Year

Name

Organization

Country

2013

Republican student olympiad

1 prize

Almaty, Kazakhstan

2014

International competition ARS POLONIA 1 prize

Bishkek, Kyrgyzstan

2015

13 International competition «Premio citta` di Padova» 3 prize

Padova, Italy

2017

Shabyt. Gran Pri

Nur-Sultan, KZ

2018

Shabyt. Chamber music. 3 prize

Nur-Sultan, KZ
2019 – KNK Kurmangazy. Teacher at the Department of string instruments.
4. PROFESSIONAL DEVELOPMENT:
Online Learning: Possibilities and Practical Applications. KNK Kurmangazy
18-24.06.2020 Certificate No. 362-2020 PK.